Individualized Services:
Advocacy:

Our bilingual staff and volunteers provide advocacy on your behalf to access needed services in a timely manner and ensure fair treatment from community-based and government resources, i.e. legal, health, housing, and social service providers. You will receive assistance in making or canceling appointments with doctors, filling out forms, paying bills and bridging cultural gaps ,

Information & Referral: We will help you obtain help with your financial, health/ mental health, housing and cultural/social problems that need to be addressed by other community-based or government agencies. Our staff and volunteers will identify you priority needs and refer you to the most appropriate service provider. We will also provide follow up to make sure that your needs are met in a timely manner.
Home Visit for Groups/ Assessment/ Counseling: A bilingual staff or volunteer will come to your home to assess the situation, i.e. determination of your needs for transportation, housing, finance good, health care, family/ community support, etc… and develop a plan for addressing barriers, and discuss how you can access services that will reduce your risk of isolation and improve your health and wellbeing.
Individual Assessment/ Counseling: We will come to your home to assess your situation and determine your need for services or support and develop a plan for addressing barriers, and discuss how you can access services that will reduce your isolation and improve your wellbeing. We will connect you to a family and community support system.
Escort/Translation/Interpreting services: Our bilingual staff or volunteer will provide translation and interpreting services in order to access mainstream services timely. If necessary, we will accompany you to social security, hospital/clinics, immigration, and other resources.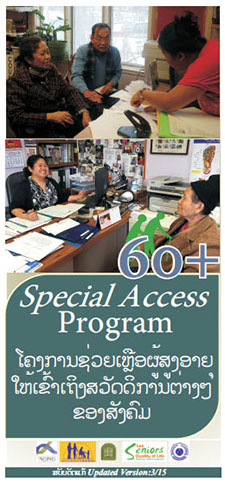 Special Access
Lao Advancement Organization of America (LAOA) is offering the following culturally competent services to all Lao elders and other senior citizens 60 years old and older without regard to race, color, gender, nationality, religious belief, or political affiliation.
Group Services:
Socialization: We provide a cultural center that offers a friendly environment in order for you to feel comfortable to meet other Lao elders from similar or different backgrounds, to share your personal or family stories, and to support one another during the time of need
Citizenship/ ESL Class/ Elders Circle & Computer Classes: We offer pre-literacy English class, bilingual civic education and citizenship classes. We also help you to complete citizenship applications and support documents, i.e. fee waivers and medical waiver forms, and legal support.
Health and Nutrition Class: We provide health and medication consultations and monthly bilingual health and nutrition education.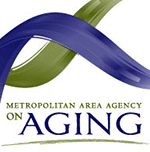 "Funded under contract with the Metropolitan Area Agencies on Aging, Ic. (MAAA), as part of the Older American Act Program and Participant Contribution"
Lao Advancement Organization of America (LAOA)
| | Mo | Te | We | Th | Fr |
| --- | --- | --- | --- | --- | --- |
| Citizenship Class | 10am-11am | | | | |
| ESL Class | | | 10am-11am | | |
| Appointment Only | | 10am-12pm | | 1pm-4pm | |
| Walk -In | | 1pm-4pm | | 9am-12pm | |
| Home Visit | | | 1pm-4pm | | |
| Elder Circle | | | | | 10am-11am |
| Elder Entertainment | | | 1pm-2pm | | |
OUR BROCHURE









VOLUNTARY CONTRIBUTION POLICY